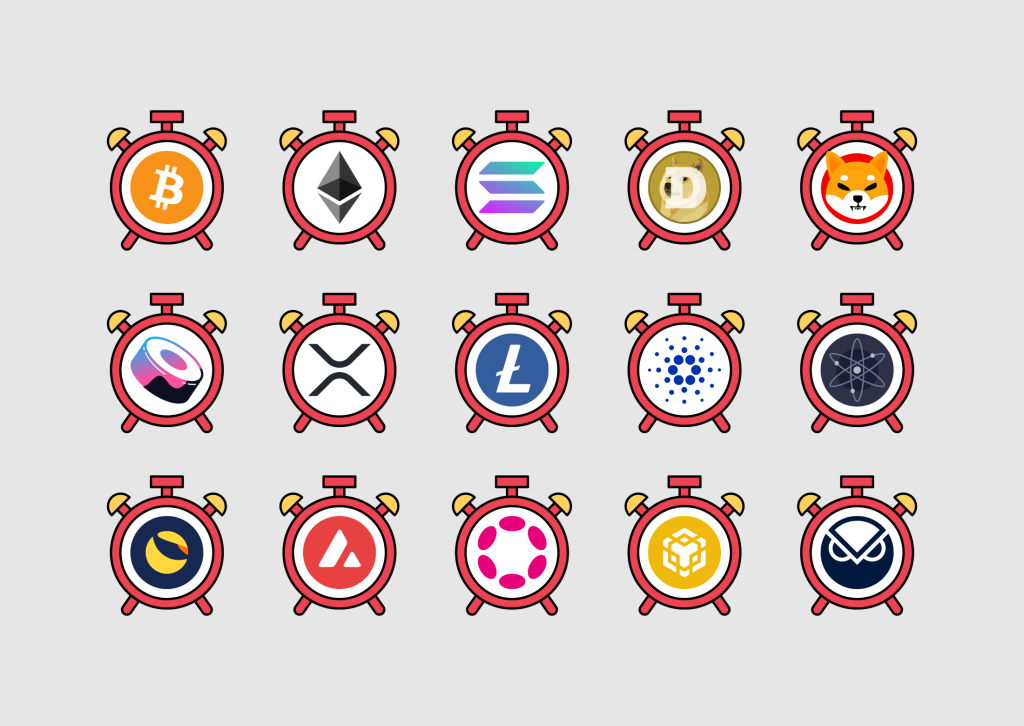 Unlike traditional stock markets that work on specific hours and days, and can be closed on demand, the cryptocurrency market is open all the time, without weekends or holidays – it works 24/7, it never stops!
This always-active and constantly-evolving nature of the cryptocurrency market can cause some significant stress, especially to those who do not know how to manage their crypto investing activities with the help of technology and automation, or more precisely, with crypto alerts.
In this article, we will explain how cryptocurrency price alerts can help you save time and provide a simple framework to efficiently manage your crypto investing activities.

Further in the article, we will review the crypto alerting capabilities of the top cryptocurrency exchanges.
Finally, we will pick the best all-in-one app for you to easily get crypto alerts for Bitcoin, Ethereum, and thousands of other crypto coins and tokens from hundreds of exchanges, without the need to spend a lot of time or effort on your side.
What are crypto alerts?
Crypto alerts are transactional messages that you receive through your chosen communication channel. Crypto alerts can be delivered by email, SMS, or by some form of notifications.
Crypto price alerts will inform you when your predefined alert conditions are met, e.g. the alert will be sent when the Bitcoin price goes above 100,000 USD, or when it drops by 10% in 24H, or similar.
The main purpose of crypto alerts is the automation of the manual chart watching process. It saves a lot of time and provides other benefits.
When we refer to crypto alerts, we mean user-created custom alerts about cryptocurrency prices, and NOT crypto signals, that are based on a third-party algorithm.
What are crypto signals?
Crypto signals are not crypto alerts, although they can often be mistaken.
The main characteristic of crypto signals, is that they are based on some kind of a third-party algorithm, and you receive a signal when conditions, predefined in the algorithm, are met.
As opposed to complex conditions defined by an algorithm in crypto signals, crypto alerts are based on simple conditions, defined by every individual user.
While some of these crypto signals can provide useful information, lots of them are quite random and not useful at all.
In this article, we focus only on crypto alerts, since crypto signals are a whole different field of the cryptocurrency industry.
Why use crypto price alerts?
The main purpose of crypto alerts is to empower you with the information, which is important to you, comes at the right time, and through your chosen communication channel.
Below are the top 5 benefits of crypto price alerts. These are the top 5 ways how using crypto alerts can improve your cryptocurrency investing activities, and in general benefit your life situation:
Crypto alerts save time by automating manual price watching;
Crypto alerts provide a sense of security and control since the market is being tracked 24/7;
Crypto alerts inform you about crypto price changes that are important to you;
Crypto alerts help you to focus on your long-term investing goals;
Crypto alerts prevent the addiction to compulsive crypto chart watching.
So, since crypto alerts are so beneficial, where can you get them? Can you set up free crypto price alerts on the most popular trading platforms, such as Robinhood, Coinbase, and Binance?
Yes, these services provide at least some form of crypto alerting. Let's review them in detail and see how to set up crypto price alerts on each of these platforms.
How to set up crypto alerts on Binance?

If you are investing in cryptocurrencies mainly through the Binance exchange, crypto price alerts available in the Binance mobile app are quite versatile and might be sufficient for your needs.
Alerts can be received only as push notifications, and they are available only on the mobile app, but not the web app. If you don't mind these limitations, Binance crypto alerts might be a good choice for you.
To set up crypto alerts on the Binance mobile app, you first need to switch to Binance Pro in your app settings. Then select a market pair, at the bottom click Alerts, and there you will be able to set up a crypto alert as a mobile notification.
Using the Binance mobile app, you can set up the following types of crypto alerts: Price Rises Above, Price Drops To, Change is Over, Change is Under, 24H Change is Over, 24H Change is Down.
More info on how to set crypto alerts using the Binance mobile app.
How to get crypto alerts on Coinbase?

In the past, Coinbase provided a custom crypto alerting service, but it's been discontinued.
You can now set up only limited-functionality crypto alerts, using the Coinbase mobile app. You will receive alerts of significant price changes for coins in your Coinbase watchlist.
To start receiving these crypto alerts, open the Coinbase app settings, then choose notifications, and define some basic conditions on how you'd like to receive your crypto alerts.
There are three ways how alerts can be delivered: In-app only, by mobile push notifications, or by email.
Coinbase now offers only a very basic crypto alerting service with limited functionality, but it still can be useful for some segments of users. For others, its limited range of features simply won't be sufficient, so it's better to look for a fully customizable crypto alerts app.
More info on how to get crypto alerts with the Coinbase app.
How to set crypto alerts on Robinhood?

Robinhood has a unique crypto alerting system, though it is also mobile-only and with push notifications being a single alerts delivery option.
For alerts, the main option is percentage alerts with the default threshold set to 5%, which can be changed to 10%. It means, that if Bitcoin, Ethereum, Dogecoin, or another cryptocurrency you hold or watch on Robinhood, increases or decreases by 5% (or 10%), you will receive a push notification.
You can control how many push notifications you want to receive with LESS and MORE options.

If you choose LESS, you will receive up to 3 alerts for each coin during the 24H period. If you pick the MORE option, then the 3 alerts limitation won't be applied.
Additionally, Robinhood provides a unique 52 Week High/Low crypto alert. If you opt-in to receive this alert, you will be notified when a coin you hold or watch reaches the 52-week high or low. You can only receive this alert once per week.
More info on how Robinhood alerts work and how to receive them.
Notifications VS email & SMS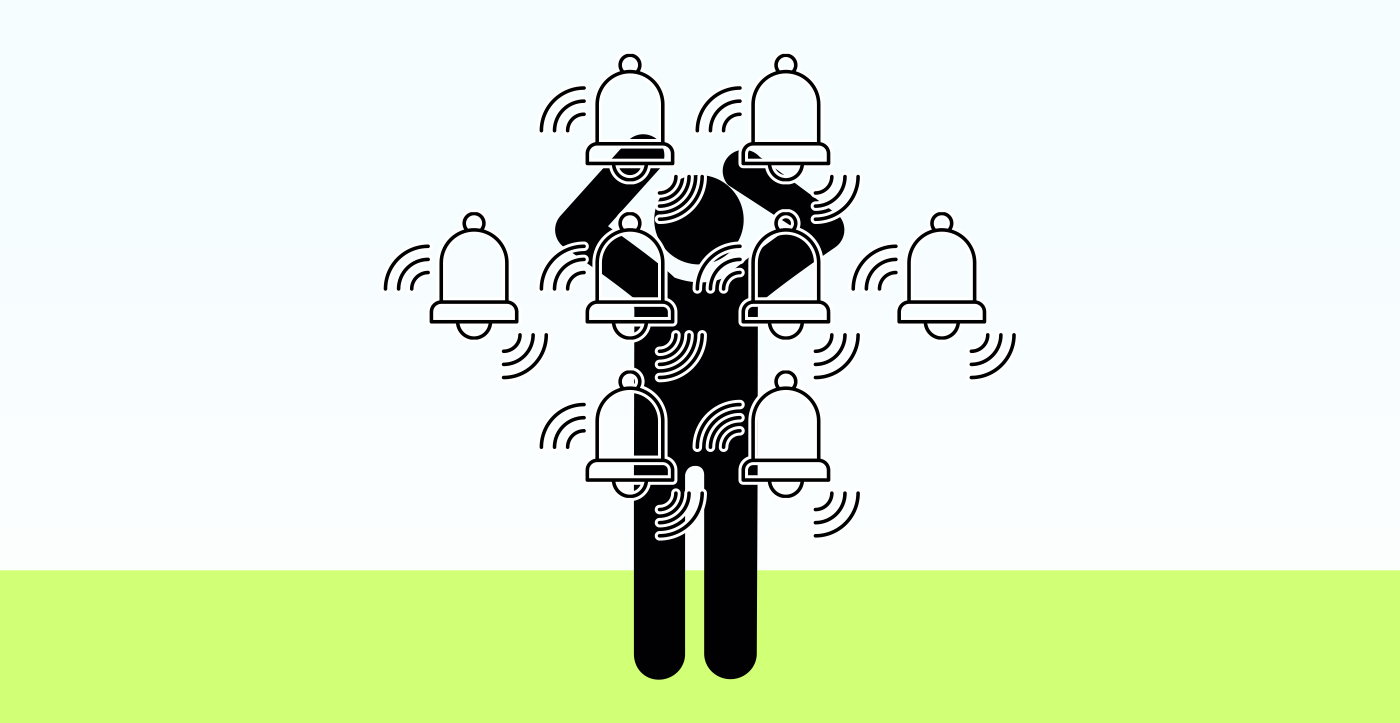 As we can see, the above-mentioned services provide crypto alerts only as mobile notifications, and with very limited functionality. That's far from ideal.
Inherently, push notifications have a low alerting value. Since we get so many of them, we become quite insensitive to them. That's why it's easy to miss a crypto alert that comes as a mobile notification.
Additionally, if we try to customize mobile notifications, they either don't work according to our setup, or there is no individual customization. If you want to live a productive and well-balanced life, consider turning mobile notifications off, and then check the difference.
There are better ways than push notifications to deliver crypto alerts.
"We all get too many rings and blips and squawks on our smartphone. Every ping your phone emits is another distraction, one that can take several minutes to recover from. Here's how to shut them up."
— WIRED
The all-in-one crypto alerts app
As promised at the beginning of this article, it's time to pick the best all-in-one crypto alerts app. In our biased opinion, the best crypto alerts app is Coinwink! But let us provide some good arguments, why we think so, and then you can make your own decision.
Coinwink is a crypto alerts web-app, founded in 2016. During these years, it was stress-tested, hardened, polished, and optimized for the main function – to deliver crypto alerts as best as possible.
Coinwink is universal because it's based on CoinMarketCap, which is considered the industry standard for cryptocurrency markets data. Coinwink tracks the top 3600 coins and tokens from CoinMarketCap, based on the data from hundreds of cryptocurrency exchanges.
Coinwink is fast! The data on Coinwink is updated and crypto price alerts are triggered every minute.
Because Coinwink is a web app, you can use it equally comfortably on both mobile and desktop devices.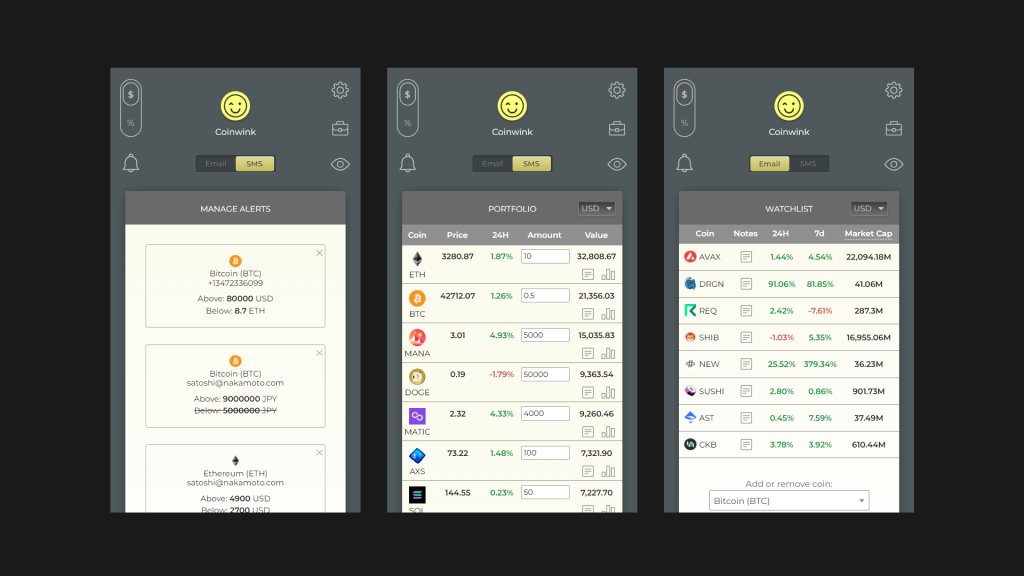 Coinwink is privacy-focused and open source.
Additionally, Coinwink provides crypto percentage alerts and portfolio multiple-coin alerts. You can also follow Coinwink Twitter for Top Gainers and All-Time High crypto alerts, and check the Coinwink NFT for nft alerts.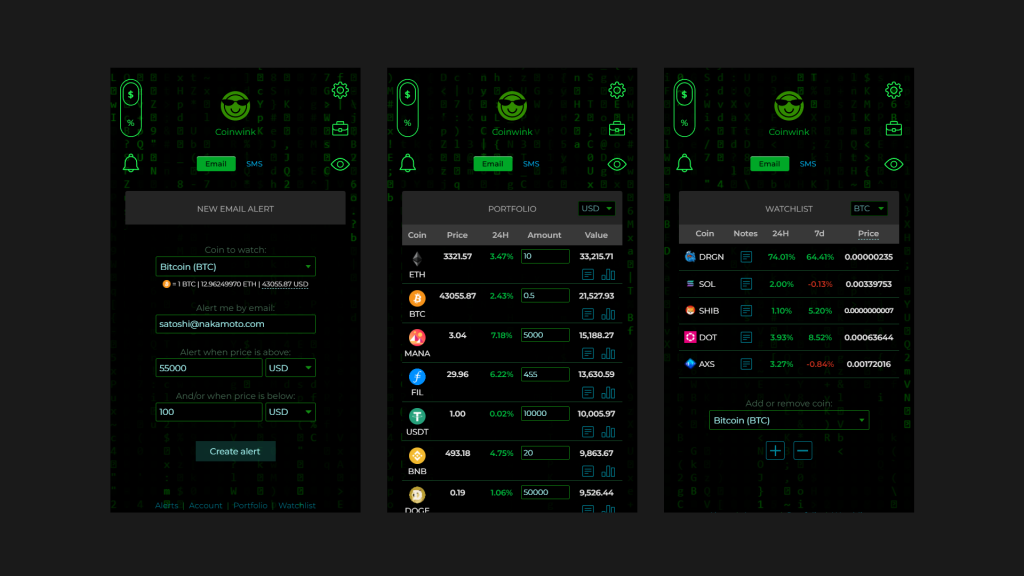 Coinwink alerts can be set in 9 different fiat currencies (USD, EUR, GBP, AUD, CAD, SGD, JPY, MXN, BRL), and all the most popular cryptocurrencies, including Bitcoin, Ethereum, Dogecoin, and others.

The Coinwink app user interface is based on the KISS (Keep it Simple, Stupid) principle, and the 80/20 Rule (the Pareto Principle), therefore the app is simple, slick, and efficient.

Additionally, Coinwink offers crypto watchlist and portfolio features that provide extra tools and "bird's-eye view" insights in a single and easy to access place.
And finally, it has a free plan that allows you to use all the main Coinwink features for free for up to 10 (2×5) alerts, and 5 coins in the watchlist and portfolio. So sign up for a free Coinwink account, and start receiving crypto alerts for Bitcoin, Ethereum, and thousands of other cryptocurrencies right away.
Conclusion
In this article, we answered the question about what are crypto alerts, and also what benefits they provide, where to get and how to use them.
Since manual price watching is a waste of time and can lead to degraded investing results, lowered life quality, addiction to charts, and similar negative outcomes, it's better to liberate oneself from this endless chart watching with the help of technology and automation.
By using one of the crypto alerting services available online, you'll be aware of the cryptocurrency market conditions 24/7, without wasting a lot of time or effort.
You can set up crypto alerts in mobile apps of the most popular cryptocurrency trading platforms, but the functionality of these integrated crypto alerts is limited in many ways.
A better idea is to choose a stand-alone and fully customizable app for managing your crypto alerts, and if it has other relevant tools included in the whole package, that's only a plus!
---
DISCLAIMER: The information provided in this article does not constitute any form of investment advice, recommendation, or endorsement by Coinwink. The information is general in nature and is not intended to address your particular requirements. You should consider seeking independent legal, financial, taxation, or other professional advice to check how the information relates to your unique circumstances.
---